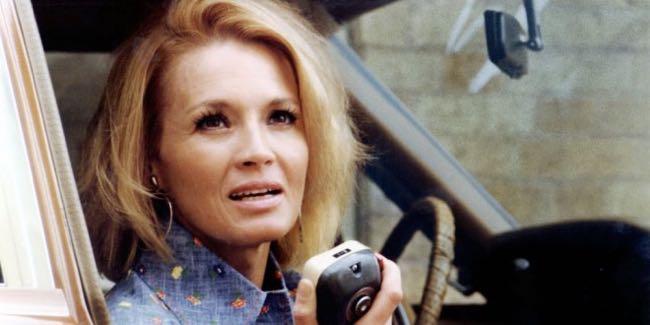 By Ray Bennett
LONDON – Angie Dickinson, who turns 85 today, claimed many a young man's heart in 1959 when, as a woman named Feathers, she squared off in only corset and tights against John Wayne in the great Howard Hawks western, "Rio Bravo".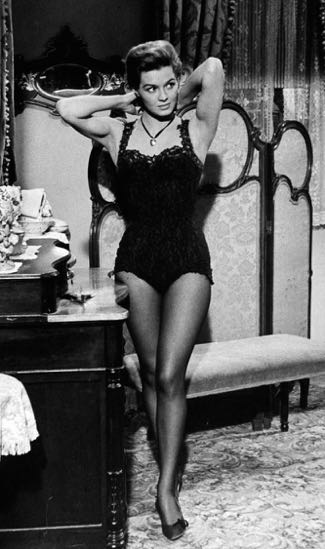 We didn't notice or care that the Duke was old enough to be her father, it was her blazing eyes and fighting spirit and, oh yes, those legs.
Some of us had spotted her already on Fifties TV westerns such as "The Life and Legend of Wyatt Earp", "Cheyenne" and "Have Gun – Will Travel". Also in a couple of movies, a Randolph Scott oater titled "Shoot-Out at Medicine Bend" (1957) , with James Garner, her future co-star in Norman Jewison's "The Art of Love" (1965), and an Andrew L. Stone thrilled called "Cry Terror!" (1958) opposite James Mason and Rod Steiger.
It was "Rio Bravo" that made Angie Dickinson a star and her allure and feisty self-confidence made her the inevitable feminine foil for the Rat Pack caper in the original "Ocean's 11" (1960) with Frank Sinatra and Dean Martin (below), and soapy dramas such as "The Bramble Bush" (1960) with Richard Burton, "A Fever in the Blood" (1961) with Efrem Zimbalist Jr., and "The Sins of Rachel Cade" (1961) with Peter Finch and Roger Moore.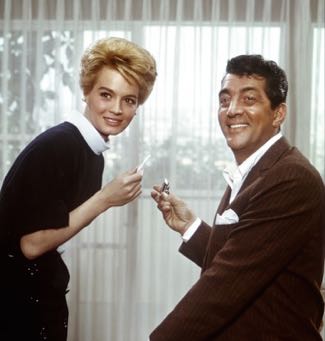 The North Dakota native makes a great impression opposite Gregory Peck and Tony Curtis in David Miller's offbeat medical drama "Captain Newman M.D." (1963) and Arthur Penn's torrid Deep South tale "The Chase" (1966) with Marlon Brando, Robert Redford and Jane Fonda (and a terrific John Barry score).
She has fun in such western frolics as "Sam Whiskey" (1969) with Burt Reynolds and "Young Billy Young" (1969) with Robert Mitchum, Roger Vadim's crime comedy "Pretty Maids All in a Row" (1971) with Rock Hudson, and in the title role of Steve Carver's bootlegging romp "Big Bad Mama" (1974, below) with William Shatner and Tom Skerritt.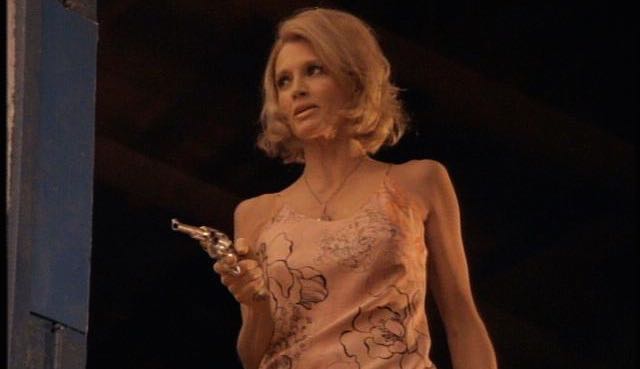 Besides "Rio Bravo", her most striking film roles are in three notable thrillers, two of them with Lee Marvin: Don Siegel's taut remake of Ernest Hemingway's "The Killers" (1964),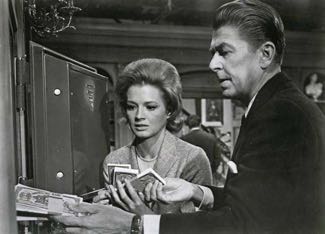 co-starring John Cassavetes and Ronald Reagan (his last film and only appearance as a villain, pictured left), and John Boorman's masterpiece, "Point Blank" (1967, below right). The other is Brian De Palma's mordant "Dressed to Kill" (1980) with Michael Caine and Nancy Allen.
Dickinson made lots of TV and she is best remembered for her groundbreaking hit "Police Woman", which ran for 91 episodes on NBC from 1974-78. She played Sergeant Pepper Anderson in the first U.S. cop show to have a female lead. Barbara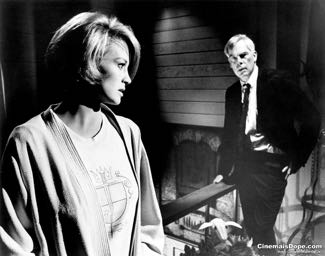 Eden ("I Dream of Jeannie") had wanted to play a female police officer back then but she told me, "They said no policewoman would have blonde hair or fit her uniform, 'absolutely not, it would not be believable'. Then Angie Dickinson came along on NBC ("Police Woman") and proved them wrong. I guess NBC had more courage."
"Police Woman" paved the way for all the female cops that followed and Dickinson tried again in 1982 with another NBC series, "Cassie & Co." in which she essentially played a Pepper Anderson who has left the force and become a private eye.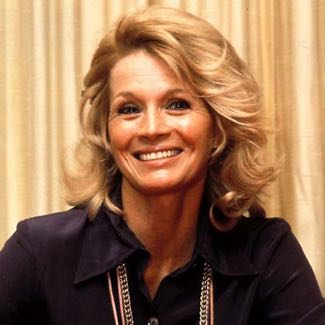 I was set to interview the actress in connection with that show but it aired first as a mid-season replacement and failed to gain traction. It lasted 13 episodes.
I did, however, get to meet her and see her at work. It was a location shoot on the pier at Paradise Cove in Malibu. She and co-star A Martinez did some scenes on a sailboat and I watched along with another co-star, the veteran Canadian John Ireland, and "Sands of the Kalahari" star Stuart Whitman, who was visiting the set. He and Dickinson later appeared in a Burt Kennedy TV western titled "Once Upon a Texas Train" (1988) along with Willie Nelson and Richard Widmark.
Dickinson had lunch with the crew in the open air, chatting and laughing and when she was done she took her own tray and cleaned it. Then 51, she looked not much different from the svelte beauty in "Rio Bravo" and she could still take a fellow's breath away.