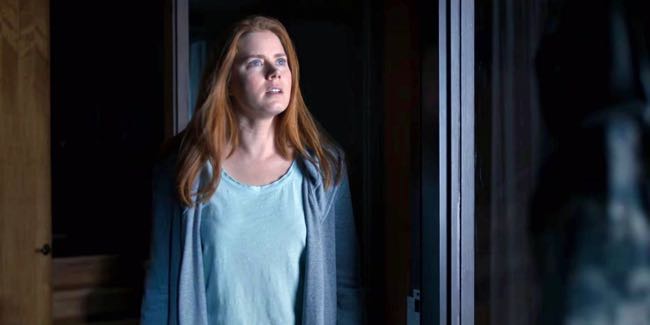 By Ray Bennett
In a year that has featured many fine films with splendid performances by women, the movie I enjoyed the most was Denis Villeneuve's "Arrival" starring Amy Adams (pictured).
In my review from the Toronto International Film Festival, I said: "Science-fiction movies that threaten to depict creatures from outer-space generally leave me cold but Denis Villeneuve's "Arrival" presents a plausible "what if?" grounded in a contemplative question for humankind with another standout performance by Amy Adams.
"Adams, who wears no makeup and looks the least glamorous she could possibly be, conveys the linguist's thought processes so clearly that she renders fanciful notions credible and dubious hypotheses possible."
As I reported, the big talking point at TIFF2016 was the sheer number of films that featured high-profile performances by women including Emma Suárez and Adriana Ugarte ("Julieta"), Natalie Portman ("Jackie"), Nicole Kidman ("Lion"), Emma Stone ("La La Land"), Rosamund Pike ("A United Kingdom"), Rachel Weisz ("Denial") and Adams again in Tom Ford's "Nocturnal Animals".
There were many others throughout the year including Kate Beckinsale in the excellent Jane Austen adaptation "Love and Friendship", Emily Blunt in "The Girl on the Train", Helen Mirren in the suspenseful drone drama "Eye in the Sky", Meryl Streep as the caterwauling "Florence Foster Jenskins", Annette Bening as a wise mother in "Twentieth Century Women" and the cast of NASA tale "Hidden Figures". Not to mention Felicity Jones catapulted to major stardom in "Rogue One".
Not a golden year, perhaps, but (while several titles are still to be released) not a bad one either.
Performances I enjoyed the most this year included, as best actress, Amy Adams in both her films, Kate Beckinsale, Emily Blunt, Rosamund Pike and Meryl Streep; as best actor, Casey Affleck ("Manchester by the Sea"), Joseph Gordon-Levitt ("Snowden"), David Oyelowo ("A United Kingdom"), Ryan Gosling ("La La Land"); as supporting actor, Michael Shannon ("Nocturnal Animals"), Ben Foster ("Hell or High Water"), Hugh Grant ("Florence Foster Jenkins"), and George Clooney, Alden Ehrenreich and Ralph Fiennes (all for "Hail, Caesar"); Nicole Kidman ("Lion"), Haley Bennett and Rebecca Ferguson ("The Girl on the Train"), Taraji P. Henson, Octavia Spencer, Janelle Monáe (all for "Hidden Figures"), Scarlett Johansson *"Hail, Caesar").
Pedro Almodovar's "Julieta" had my favourite score of the year, by Alberto Iglesias and I also especially enjoyed the scores for "Arrival" (Jóhann Jóhannsson) and "Jackie" (Mica Levi).
Here are my Top 10 Film Picks for 2016:
Arrival
Julieta
Love and Friendship
Hell or High Water
Manchester By the Sea
Hail, Caesar
The Girl on the Train
Snowden
Florence Foster Jenkins
La La Land