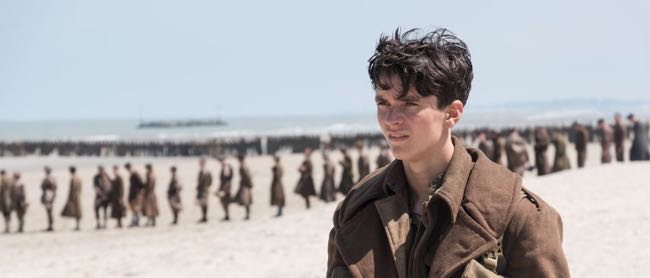 By Ray Bennett
LONDON – Christopher Nolan's "Dunkirk" is a spectacular fireworks show filled with exciting action but as a record of an iconic World War II event it falls short and as human drama it's a damp squib.
When fighter planes are screaming, bombs are exploding and bullets are flying, it's pulsating stuff with a gut-punching battle between sound effects and Hans Zimmer's score, which the composer wins through sheer verve and ingenuity.
Operation Dynamo is celebrated as an example of British pluck as hundreds of small civilian boats crossed the English Channel in the face of a ferocious enemy to evacuate 400,000 soldiers trapped by surrounding troops on the beach at Dunkerque on the French coast six miles from Belgium border.
Seven hundred little ships and 220 warships made the perilous journey to enter mine-strewn waters guarded by fighter planes and bombers including several from the Isle of Man, the Netherlands and Belgium. They rescued more than 330,000 soldiers in all – around 192,000 British and 139,000 French.
The evacuation lasted for 10 days from May 26, 1940 following the disastrous collapse of the British Expeditionary Army against the onslaught of the Nazi invasion of France. The film tightens the time-frame as Nolan eschews a broad canopy to focus tightly on a handful of characters.
Sadly, he has chosen clichéd characters rendered in cardboard fashion so that we have no idea who anyone is. Research surely would have revealed more captivating stories and Nolan would have been wise to bring in a good co-writer to raise his dialogue from the banal. What we get are the Dorset Boatman, a stalwart fellow with a handsome son and stowaway kid; the Bounder, an officer who becomes cowardly under shell-shock; the Chancer, a resourceful soldier determined to look out for himself; the Silent Menace, an evacuee who says nothing so might be a foreign spy; the Splendid Chaps, two RAF fighter pilots who risk superior opposition and draining fuel to save lives; the Stiff Upper Lips, the navy and army commanders in charge of the exercise; and the Lads, indistinguishable young men who are alternately cocky, scrappy and scared to death.
Newcomer Fionn Whitehead acquits himself well as the opportunist and Cillian Murphy adds depth to his sketch of a frightened man who loses control when tested but the rest of the cast get lost under blood, oil and grime. Kenneth Branagh gets to grimace and smile wisely as the Navy Commander and Mark Rylance is sturdy enough as the Dorset boatman who already knows what sacrifice means but Tom Hardy is entirely wasted as one of the pilots. Jack Lowdon plays the other pilot but in their masks it's hard to know which is which and while Hardy is used to having his face covered in films ("The Dark Knight Rises"; "Mad Max: Fury Road|), their dialogue is difficult to hear and it's not as if either one has Steve McQueen's eyes.
Still, the film's aerial unit under director of photography Hans Nejrno sets the bar extraordinarily high for Ridley Scott's forthcoming "Battle of Britain" even though Nolan gives the wrong impression of the role played in Operation Dynamo by the air force. He shows just two planes protecting the troops whereas in fact 32 squadrons were rotated with the single mission to destroy German aircraft that tried to prevent the evacuation effort. As the film says, British authorities were not prepared to risk too many aircraft that would be required for the looming invasion of Britain but 250 Hurricanes were lost in the fight.
According to the authoritative website Weapons and Warfare, over the nine days, the RAF carried out 171 reconnaissances, 651 bombing sorties and 2,739 fighter sorties.  As Commander-in-Chief of 11 Group RAF, a man named Sir Keith Park flew a Hurricane fighter on reconnaissance missions within range of German guns throughout the period. On his final survey, he saw the last two British ships depart and he was the last airman to leave.
The huge number of vehicles, vessels, planes and people involved would appear to make the vast iMax frame essential but here it is a mixed blessing. It's wasted on the many close-ups of masked pilots and screaming wounded and its immense size serves to make the beach covered with 400,000 men appear sparsely populated.
There is a scene when a single soldier emerges above the beach to see the crowd but it lacks the power of cinematographer Seamus McGarvey's money-shot in Joe Wright's "Atonement".  There's nothing that comes close to the power of the brief depiction in that film of the "Apocalypse Now" level of horror, desperation and absurdity of the chaos at Dunkirk.
The film also lacks anything with the power of the shot in the 1962 film "The Longest Day" when a German defender looks out of a bunker to see the approaching armada, granting that 4,000 ships were involved in 1944. Nolan includes a scene in which returning soldiers are bewildered to be greeted as heroes but he soon moves on to jingoism with the famous Churchill quote about fighting on the beaches.
Thankfully, while there is lots of mayhem, Nolan spurns a Mel Gibson level of gore but when all the bullets have been fired and the excitement is over, "Dunkirk" slips from the memory not helped by a terribly lame citation in the end titles in which the film is said to be a tribute to all those whose lives "were impacted" by the events at Dunkirk.
Viewed at Science Museum IMax London; Released: July 21 (Warner Bros.); Cast: Fionn Whitehead, Tom Glynn-Carney, Jack Lowden, Harry Styles, Aneurin Barnard, James D'Arcy, Barry Keoghan, Kenneth Branagh, Cillian Murphy, Mark Rylance, Tom Hardy; Director, writer: Christopher Nolan; Director of photography: Hoyte van Hoytema; Production designer: Nathan Crowley; Music: Hans Zimmer; Costumes: Jeffrey Kurland; Editor: Lee Smith; Producers: Emma Thomas, Christopher Nolan; Executive producer: Jake Myers; A Warner Bros. Pictures release and presentation of a Syncopy production; Rating: UK: 12A, US: PG15; running time: 107 minutes.