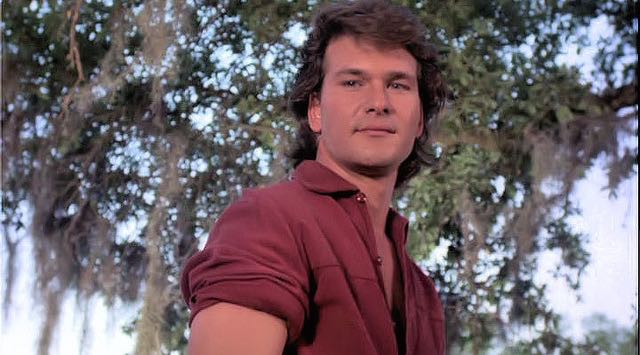 By Ray Bennett
LONDON – Patrick Swayze jumped menacingly from the corral fence to the dusty ground of his ranch in the flats next to the Angeles Forest in La Canada. "Steve McQueen said what?" he said. "There's nothing tough about making movies," I repeated. Swayze shook his head. "God, I loved that man but that sounds like bullshit to me."
That was a long time ago before Swayze had hits like "Dirty Dancing", "Ghost" and "Point Break". He would have turned 65 today but Swayze died of pancreatic cancer at the age of 57 in 2009. When I spent a day with him in 1985, when he was 33, he was full of life, feisty and combative.
I drove out to his spread just after lunch as his wife, Lisa Niemi, was just heading out. Swayze greeted me with a wave of a bottle of red wine. "You boys behave, now," Niemi said before she left. Swayze kissed her and he was pouring wine before the door closed behind her. Energetic and immensely likeable, the young actor couldn't sit still and suggested we take our glasses – and the bottle – out to the corral so he could show me his horses.
We stood in the California sunshine as he told me about making movies: "I'll tell you about tough. For 'Red Dawn', I was in the Rockies in winter at 10,000 feet and 30-below. For 'Uncommon Valor', I was in a jungle fighting heavyweight boxer Randall 'Tex' Cobb, who nearly killed me because he didn't know how to pull a punch."
For the 12-hour ABC-TV miniseries "North and South", he spent more than six months filming on location in Mississippi, Louisiana, Arkansas and South Carolina, often in sweltering conditions. Swayze said, "The key there was speed. You better be ready and able to deliver or you got problems – you blow your performance, you blow your goals, you blow your ambitions. I think Steve McQueen was full of shit."
Swayze paused and realised what he'd just said. He made a wide grin. "Of course, if was he was comparing acting to what it takes for the average Joe to get through from eight to five without becoming a lunatic, then he was talking straight. Comparatively, making movies is a dream."
We drank to that. "Still," he said, "the only thing that will make my career last is if I always deliver 100%. If I don't, I'll have no one to blame but myself if my career peters out."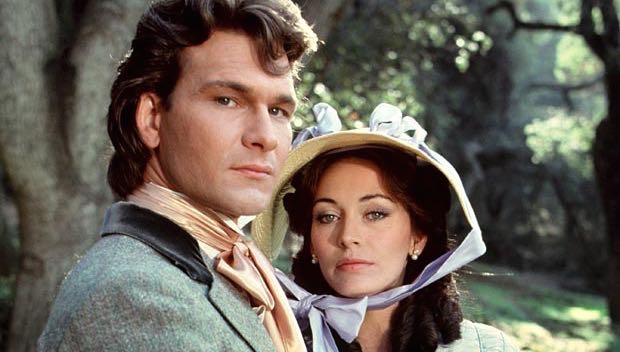 His co-star in "North and South", the delectable but steely Lesley Anne Down (pictured with Swayze above), then 31, took a wry view of the actor's energy. "Mine has faded," she told me. "I don't know how long he's been in the industry but I've been in it for 21 years. I want to put my energy into other things now."
On location for the Civil War series, Swayze said, "It was very hot wearing West Point woollen uniforms and great coats in 100-plus degrees," and Down agreed: "You'd be uncomfortable, too, if you had to wear dresses that weighed 40 pounds with six petticoats and those bloody corsets." She recalled the balmy days in England when she starred in "Upstairs, Downstairs": "We used to wander in at 1 o'clock, have tea and buns, play cricket, do about an hour's worth of work and all pootle off at 5. This was totally different. Totally."
It was all grist for Swayze, who told me, "I work non-stop. I work like a crazy man and I love it. My father died not too long ago and I realised, 'What the hell? What's the insecurity? What's the fear?' Go for it!"
As a child, he studied with his mother, dancer/teacher Patsy Swayze ("Urban Cowboy"), at her studio in Houston, Texas. As a fiercely enthusiastic high-school athlete, he was offered scholarships in gymnastics, diving, track and football but instead he joined the "Disney on Parade" touring show, performing all over the U.S. for a year. After a stint as an ice skater in Houston, he moved to New York and studied with the Harkness, Joffrey and Feld dance companies. His first chance on Broadway was with Joel Grey in "Goodtime Charley" and then he followed John Travolta as the lead in the long-running "Grease".
Hollywood beckoned and, after a series of appearances in TV movies and series (notably as a soldier dying of leukemia in an episode of "M*A*S*H"), he made his first feature film, "Skatetown, U.S.A." in 1979. He was busy after that, mostly in tough-guy roles but he didn't always like the results. He dismissed "Skatetown, U.S.A." as "garbage" and of the cult picture "The Outsiders" in 1963, he said, "They sold out the story of three brothers and turned it into a Matt Dillon flick. 'Red Dawn' could have been a legend but it was sold out for the action." The Swayze grin appeared again: "I voice non-stop. If anything will blow my career, it's because I open my mouth too much."
He was proud of "North and South" not only for his performance – "My best work" – but because of its clear-eyed view of the American Civil War: "I don't believe 'Gone with the Wind' cut it. It made that time look pretty. This show tells it straight because the South was wrong about slavery but the North was wrong about immigrants."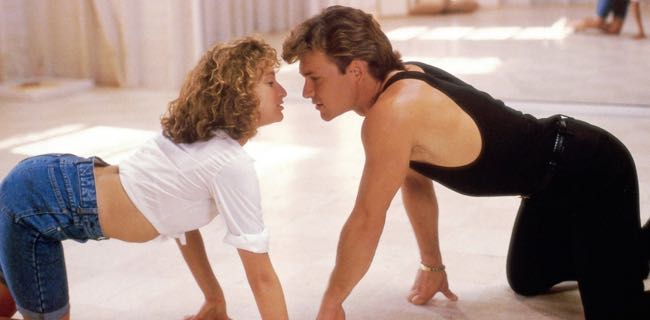 When "Dirty Dancing" (pictured above) came out in 1987, Swayze spoke positively to me about it although he said that it's really Jennifer Grey's movie. Daughter of his first co-star Joel Grey, she plays the girl who becomes a woman in the story. He said, "The picture took a lot of real work and passion, I was concerned going into it. Would a sweet, simple story work these days? It's so difficult to get a message across subtly. It's not brilliant but I think the movie's a breath of fresh air."
So was Patrick Swayze. I recall well that afternoon at his ranch with the wine, the horses and the sunshine when life was full of promise. He said he retreated to his ranch between projects because "horses don't mess with you; dogs don't mess with you; you do it right and they work beautifully for you".
He didn't view Hollywood the same way: "As fast as you're hot in this business, you can be not-hot. People can be talking about you so quickly it makes your head spin. But I don't care. I don't have to have this film career. I really don't care."
Once again, Swayze heard himself, stopped and grinned: "I do care. That's bullshit, that's a lie. I do care."