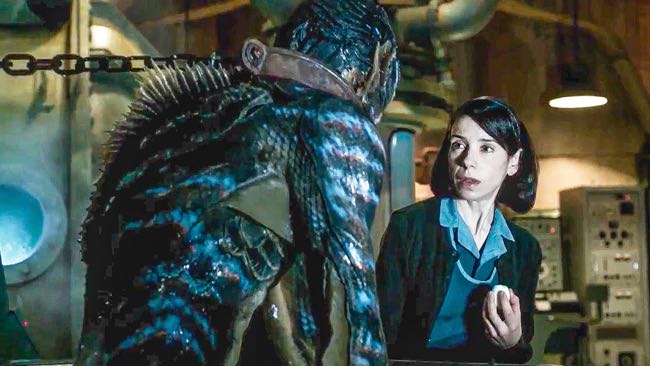 By Ray Bennett
TORONTO – Guillermo del Toro's "The Shape of Water" is a dazzling piece of cinema, a fairy tale for grownups that celebrates the joys of life amid every day banality with the occasional touch of horror. It demands to be seen more than once.
With co-writer Vanessa Taylor, the director takes a classically simple theme, beauty and the beast, and re-imagines it in sumptuous style with many small miracles of cinematic magic, nuanced storytelling and fine wit. All the actors get into the delightful spirit of the thing but Sally Hawkins (pictured above), a splendid actor with a beauty all her own, does marvels as a mute but brilliantly imaginative woman named Eliza who not only falls in love with a creature from a black lagoon but makes love to him.
Doug Jones (Del Toro's go-to contortionist in "Pan's Labyrinth" and "Hellboy") plays the spiky, spiny, scaly creature who is strangely man-like with broad shoulders and Rudolph Valentino eyes. He is called the Asset by the U.S. government agency that has captured him and secured him in a secret facility for investigation.
As it's 1963 and the Cold War is at full tilt, the authorities think they might have an asset on their hands that could put them one step ahead of the Soviets in the space race. That's because while he needs to be in water most of the time, he also can breathe on land and that could prove vital in a space venture. The man who found him in a South American river is a fiercely determined agent named Strickland (Michael Shannon), who uses an electrified baton to tame the beast and advocates vivisection as the best way to learn its secrets.
Eliza is a cleaning woman at the secret facility along with her protective friend Zelda (Octavia Spencer). Besides Zelda, the only person in Eliza's life is her next-door neighbour Giles (Richard Jenkins), with whom she shares a love of black-and-white movies, tap dancing and boiled eggs. It's no accident that Eliza's last name is Esposito as she was rescued after being abandoned by her parents and she bears the scars on her neck from the time she lost the power of speech as a child. Those afflictions further her empathy for the  tortured creature who is kept in chains and threatened with death. Sneaking into his enclave, she discovers that he responds to sign language and music and, not only that, he loves boiled eggs.
The cruel Agent Stickland keeps a close eye on the Asset unaware that one of the scientists at the facility, Dr. Hoftstetler (Michael Stuhlberg), is a Soviet spy whose handlers intend to help him kill and dispose of the creature before the Yanks can learn anything. Eliza has other plans, however, and with the help of Zelda and Giles, she steals the Asset away and creates her own watery haven in which their affection for one another might flourish in splashy but surprisingly sexy ways. This creature, she learns, has hidden gifts.
Del Toro paces the story expertly through to a very suspenseful climax and he takes time to allow all of the characters a moment or two to make their presence vital. The film is a constant delight visually and with deft touches, the director delineates the time and place with its paranoia, lack of social grace and casual racism. Although the casting is a bit obvious – Spencer as the sassy buddy, Stuhlberg as the diffident scientist and Shannon as the almost deranged villain of the piece – they all bring their A-game. Jenkins is terrific as an out-of-work commercial artist not entirely sure of himself while Jones and Hawkins – who is surely bound for awards – radiate the love story at the heart of the film.
Dan Laustsen's beautifully calibrated cinematography, Paul D. Austerberry's inspired production design, Lula Sequeira's apposite costumes and the hugely gifted special and visual effects teams all contribute mightily to the film's pleasures. Composer Alexandre Desplat drapes it all with a jaunty, faintly Gallic score that soon takes flight from the dark tones he uses when Del Toro gives in to his admirable taste for a bit of quite shocking horror.
Venue: Toronto International Film Festival; Released: U.K. London Film Festival Oct. 10, general Feb. 16 (20th Century Fox) U.S. Dec. 8 (Fox Searchlight); Cast: Sally Hawkins, Doug Jones, Richard Jenkins, Michael Shannon, Octavia Spencer, Michael Stuhlberg, Lauren Lee Smith; Director: Guillermo del Toro; Writers: Guillermo del Toro, Vanessa Taylor; Director of photography: Dan Laustsen; Production designer: Paul D. Austerberry; Music: Alexandre Desplat; Editor: Sidney Wolinsky; Costumes: Lula Sequeira; Producers: J. Miles Dale, Guillermo del Toro; Executive producer: Liz Sayre; Production: Bull Productions, Fox Searchlight Pictures; Rated: TBA; running time 119 minutes.