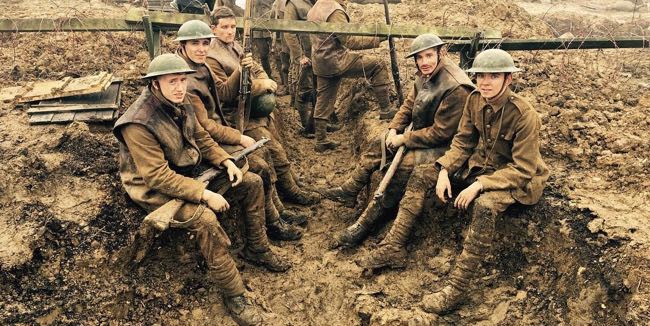 By Ray Bennett
TORONTO – Saul Dibb's film version of R.C. Sherriff's "Journey's End", a drama about soldiers at the front line of trench warfare, is a valiant attempt but possibly simply because it is a film, it lacks the power and profundity of the play as it is presented onstage.
When all we can see are a handful of officers in a dug-out adjacent to the hell-hole of British Army trenches just yards away from the enemy during World War I, the claustrophobia makes the horror outside all the greater. Dibb gives in to the temptation that film offers to show a wider perspective but with that goes the intimate desperation of a handful of men. It's hard to sympathise with officers, who have servants, dry cots, hot meals and whiskey, when we can see the men outside in their rat-infested, mucky misery vulnerable to enemy snipers.
Sherriff wrote the play in 1929 based on his own experiences at the front line and while it has had many theatrical rivals, there have been only a couple of screen treatments. Dibb is faithful to the play as a new battalion moves into a section of the front line for a six-day stint ahead of an expected bombardment. The man in charge is Captain Stanhope (Sam Claflin), a three-year combat veteran who is revered for his leadership and reviled for his alcoholic excess. Lieutenant Osborne (Paul Bettany), an older officer everyone calls Uncle, keeps a loyal eye on Stanhope while Second Lieutenant Trotter (Stephen Graham) does his job and Second Lieutenant Hibbert (Tom Sturridge) begins to cave under the constant fear.
Into the small group comes a fresh-faced kid named Raleigh (Asa Butterfield), a second lieutenant who not only idolised the older Stanhope at school but also is brother to the man's fiancée. He is the last man Stanhope wants to see. Stress increases as the expected assault grows closer and it's made worse when orders come down that a raid must be made across no man's land in order to capture an enemy soldier for interrogation. Stanhope has no choice but to assign Uncle and young Raleigh for the dangerous raid.
All of this takes place as the officers go about their routine assignments, complain about the food provided by a servant, Private Mason (Toby Jones), send to headquarters for extra pepper, and reminisce about life and women at home. Stanhope drinks steadily even as he worries that Raleigh will write home to tell his fiancée what bad shape he's in.
On stage, the various kinds of desperation and the sheer horror of what awaits outside the dug-out become palpable. Stanhope's confusion becomes manifest. Intolerant of shirking and cowardice, he fears he's guilty of both. Alarmed by his own deterioration, he's even torn between trying to protect Raleigh and sending him out into harm's way. That doesn't come across in the film. Even with the best efforts of a sterling cast, the film fails to register as does the play.
Venue: Toronto International Film Festival; Released: U.K. London Film Festival Oct. 6, general Feb. 2 (Lionsgate); Cast: Sam Claflin, Paul Bettany, Asa Butterfield, Toby Jones, Stephen Graham, Tom Sturridge, Robert Glenister, Miles Jupp; Director: Saul Dibb; Writer: Simon Reade, based on the play by R.C. Sherriff; Director of photography: Laurie Rose; Production designer: Kristian Milsted; Music: Natalie Holt; Editor: Tania Reddin; Costumes: Anushia Nieradzik; Producers: Guy de Beaujeu, Simon Reade; Executive producers: Mary Burke, Christian Eisenbeiss, Steve Milne, Adrian Politowski, Bastien Sirodot; Production: Fluidity Films; Rated: TBA; running time 107 minutes.