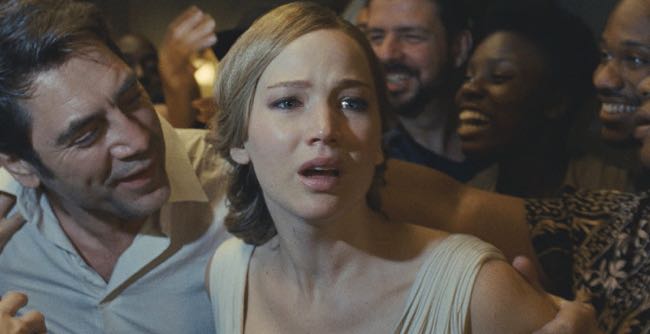 By Ray Bennett
TORONTO – Darren Aronofsky's "mother!" is pure hokum but it is very enjoyable hokum, a tub-thumping thriller with a gorgeous young woman (Jennifer Lawrence) spiralling into all kinds of fiendish and inexplicable horror. It's completely pointless but, boy, is it a good time.
Lawrence plays the young wife of a once-revered poet (Javier Bardem) who has writer's block and so they bump into each other negligently in a bizarre mansion set in the middle of a meadow in the centre of a forest. Once burned to the ground, it is in bad need of repairs, which the young bride is pleased to take on as the poet stumbles in search of his muse.
Into their ragged existence comes a strange and vaguely sinister man (Ed Harris) who says he is a doctor and has come to worship at the feet of the once great poet. Flattered, the writer welcomes him over the objections of his young wife even when he then brings in a calculatingly provocative wife (Michelle Pfeiffer) and later their two recalcitrant sons (Brian and Domnall Gleeson).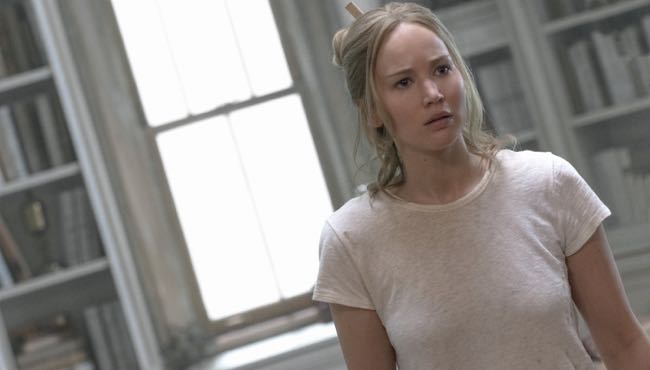 Strange rumblings in the walls and a floor that bleeds add to the aura of dread as an argument within the unwelcome family leads to a death. Mourners descend on the house in droves and the poet's wife is driven to distraction.
Calm ensues when the stories told by the intruders spark not only a renewed power to write in the poet but a new life in his wife. Joyful over finally becoming pregnant, the expectant mother is dismayed when her husband lets others read his finished masterwork before he shows it to her. Soon, fans gather at the mansion and scores become hordes who invade every room and begin a pattern of mad destruction borne of their wish to own something that belongs to the poet.
Harris and Pfeiffer appear briefly but register with considerable menace while Bardem is resolutely oblique in his parallel concern and indifference to the fate of his wife. Lawrence bears the brunt of everything and she does wonders, really going beyond the call of duty. It's a role that requires her to register every emotion but especially outrage and mortifying fear in the face of a torrent of abuse from nameless strangers, and she is both persuasive and sympathetic.
Aronofsky pours on the torment, which becomes darker and bleaker with the building smashed and bodies rent to pieces. Staged masterfully and shot colourfully by DP Matthew Libatique, it also benefits from Jóhann Jóhannsson's eldritch score. Much of it is total mayhem: noisy and bloody and foul.
Great fun, in other words.
Venue: Toronto International Film Festival; Released: U.K., U.S. Sept. 15 (Paramount Pictures); Cast: Jennifer Lawrence, Javier Bardem, Ed Harris, Michelle Pfeiffer, Brian Gleeson, Dombnall Gleeson; Director, writer: Darren Aronofsky; Director of photography: Matthew Libatique; Production designer: Philip Messina; Music: Jóhann Jóhannsson; Editor: Andrew Weisblum; Costumes: Danny Glicker; Producers: Scott Franklin, Ari Handel; Executive producer: Mark Heyman, Josh Stern, Jeff G. Waxman; Production: Protozoa Pictures; Rated: U.S.R / U.K. 18; running time 121 minutes.