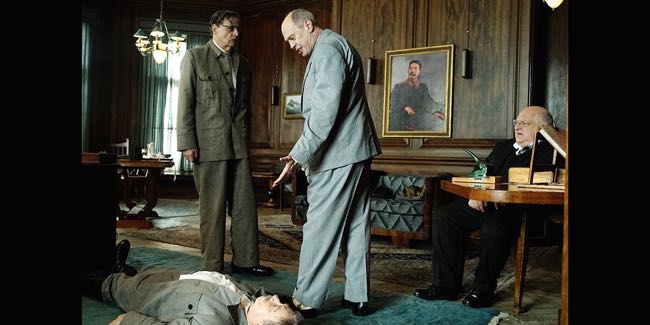 By Ray Bennett
TORONTO – Having savaged British and American politics on television with "The Thick of It" and "VEEP", Armando Iannucci turns his wickedly satirical eye on Russia with a perceptive and hilarious depiction of what might have happened when the Soviet Union leader had a stroke that led to his death in 1953.
Drawn from a graphic novel written by Fabien Nury, the film mines the truly grim realities of life in a wantonly brutal dictatorship for comic gems that reveal the craven ruthlessness of the ruling cabal. A cast of fine comedic actors use a range of mostly British accents to convey the essential drabness of the characters and the banality of their evil.
As in the book, the monstrous power of Joseph Stalin (Adrian McLoughlin) is illustrated in the opening scenes when the dictator demands to have sent to him immediately a recording of a live radio broadcast of a Mozart concerto that was not recorded. The reaction of terrified radio boss Comrade Andreyev (Paddy Considine) speaks volumes.
That terror is shared by not only the cowed and vulnerable Soviet citizenry but also the secretariat that enforces the whims of their unpredictably vindictive leader. These include his cowardly deputy Georgy Malenkov (Jeffrey Tambor), ambitious Nikita Khrushchev (Steve Buscemi), subservient Vyacheslav Molotov (Michael Palin), and hangers-on Anastas Mikoyan (Paul Whitehouse) and Nikolai Bulganin (Paul Chahidi).
All of them are even more terrified of the creepily unctuous and unsparingly pitiless head of the NKVD secret police, Lavrentiy Beria (Simon Russell Beale, pictured top right with Tambor, left, and Buscemi). Beria likes to make lists and the people on those lists in vast numbers end up dead. Everyone around Stalin lives with the horror of ending up on one of Beria's lists. When Stalin has a stroke and becomes comatose with death imminent, Beria starts immediately to issue new lists. With a change of leadership possible suddenly, the race for power begins and the film's dark comedy goes into high gear.
Given blithely incisive dialogue with deft asides of humour, the entire cast provide a masterclass in comic timing with Buscemi, Tambor and Palin leading the way. Best of all is Simon Russell Beale as the obnoxiously toxic Beria. Beale ranks with Mark Rylance as the finest British stage actors of their generation and at last he has a movie role that shows him at his best.
Jason Isaacs bursts onto the screen with a thick northern English accent as Zhukov, head of the Red Army; Olga Kurylenko embodies the better side of Russian nature as a beautiful and obstinate pianist; and Andrea Riseborough and Rupert Friend have fun as Stalin's bemused daughter and drunken son.
Zac Nicholson's cinematography and Cristina Casali's production design give the film a handsome look while Christopher Willis's score embellishes the satire and underscores the venality. While it is very funny, the comedy in the film is not as broad as it is in the director's TV work and that is a good thing given the terrible people and events involved. Bouts of extremely nasty violence punctuate the bumbling political machinations as a reminder that while these men demand derision, at the time they were nothing to laugh about.
Venue: Toronto International Film Festival; Released: U.K. Oct. 20 (Entertainment One) U.S. TBA (IFC Films); Cast: Jeffrey Tambor, Steve Buscemi, Michael Palin, Simon Russell Beale, Olga Kurylenko, Andrea Riseborough, Paddy Considine, Rupert Friend, Jason Isaacs, Adrian McLoughlin, Paul Whitehouse; Director: Armando Iannucci; Writers: Armando Iannucci, David Schneider, Ian Martin, Peter Fellows, based on a graphic novel by Fabien Nury and Thierry Robin and an original screenplay by Fabien Nury; Director of photography: Zac Nicholson; Production designer: Cristina Casali; Music: Christopher Willis; Editor: Peter Lambert; Costumes: Suzie Harman; Producers: Nicolas Duval Adassovsky, Kevin Loader, Laurent Zeiton, Yann Zenou; Executive producers: Jean-Christophe Colson, Giles Daoust, Catherine Dumonceaux; Production: Main Journey, Free Range Films, Quad Productions, Title Media; Rated: U.K. 15; running time: 107 minutes.