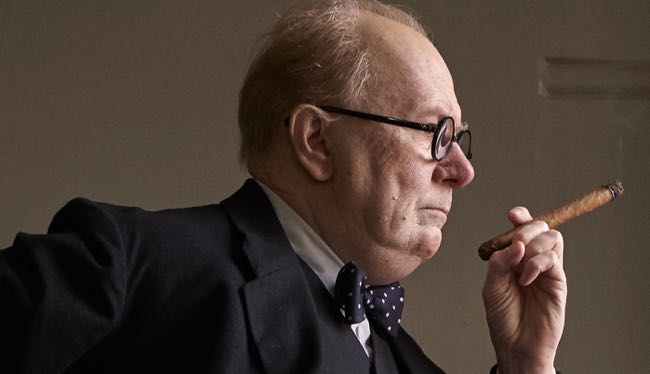 By Ray Bennett
TORONTO – Gary Oldman is an unlikely choice to play Winston Churchill but his portrayal of the iconic British statesman in Joe Wright's 'Darkest Hour' is masterful and bound for all the major awards. He is supported by a strong cast who with good pacing by director Joe Wright overcome the script's mawkish nostalgia and jingoism to hold it all together.
The film illustrates the significant point that words matter and that key speeches delivered by Churchill over a short time in 1940 fortified the people of the United Kingdom in their determination to fight Adolf Hitler's Nazis. It covers the period in which the German military have swept across Europe and retreating British forces have escaped from France by the skin of their teeth. An invasion appears imminent and help from America and the Soviet Union is a long way off.
Memories of the monstrous number of deaths and casualties in World War I barely 20 years earlier are vivid in the minds of the British but when Tory Prime Minister Neville Chamberlain's attempts at appeasement with Hitler force him out of office, he endorses the similarly minded Earl of Halifax to succeed him. For political reasons, Halifax declines, which opens the door for Churchill and the film speculates on what went on behind closed doors as the ageing politician takes on the greatest challenge imaginable against mighty odds.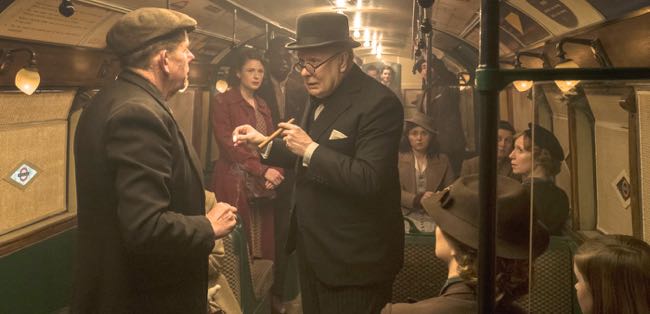 Padding, prosthetics and CGI tweaks were all employed to render Oldman the spitting image of the plump 65 year-old Churchill but the actor goes far beyond that to convey the man's complexity, darkness and wit. Scenes with the understanding and ever-supportive Clemmie – Kristin Scott Thomas steely and wise – show his vulnerability and those with political adversaries show his steel. Lily James is appealing as a composite secretary who suffers his peremptory wrath at first but learns how to buffer his moods and make sure his speeches are prepared on time.
Ronald Pickup as Chamberlain, Stephen Dillane as Halifax, Ben Mendelsohn as King George VI and Samuel West as Anthony Eden are all first rate. Wright's savvy direction sustains interest despite Anthony McCarten's talky script and cinematographer Bruno Delbonnel and production designer Sarah Greenwood set the wartime scene vividly while the director's regular composer, Dario Marianelli, embellishes the changing moods pleasingly without cliche.
It's easy to be swept along by the force of nature that was Churchill because Oldman makes him so plausible. The film is betrayed, however, by a risible scene in which the old imperialist ventures onto the Underground to get the views of Londoners. The idea that Churchill gave tuppence about what the proletariat thought of things beyond political calculation is absurd. So is the possibility that the working classes would bow and scrape toward a man whose contributions to the first war were dire and who wanted to use armed soldiers against protestors during the general strike of the mid-1920s. The sequence almost sinks the film but Oldman's ability to show how Churchill's gaze could crinkle warmly or shoot killer darts keeps the sentimental nostalgia at bay.
Venue: Toronto International Film Festival; Released: U.K. Jan. 12 (Universal Pictures) / U.S. Dec. 22 (Focus Features); Cast: Gary Oldman, Kristin Scott Thomas, Ben Mendelsohn, Lily James, Ronald Pickup, Stephen Dillane, Nicholas Jones, Samuel West; Director: Joe Wright; Writer: Anthony McCarten; Director of Photography: Bruno Delbonnel; Production designer: Sarah Greenwood; Music: Dario Marianelli; Editor: Valerio Bonelli; Costume designer: Jacqueline Durran; Producers: Tim Bevan, Lisa Bruce, Eric Fellner, Anthony McCarten, Douglas Urbanski; Executive producers: James Biddle, Liza Chasin, Lucas Webb; Production: Perfect World Pictures, Working Title Films; Rating: U.K. PG / U.S. PG13; Running time: 125 minutes.