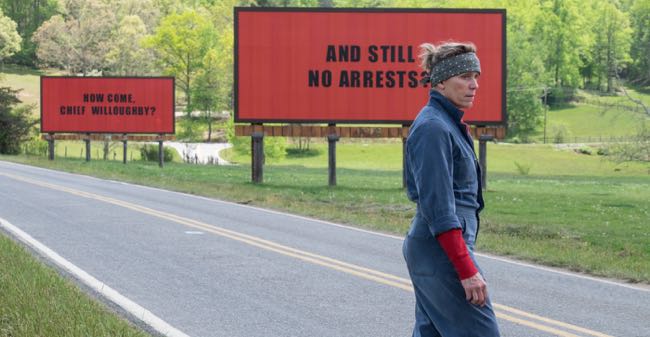 By Ray Bennett
TORONTO – "Three Billboards Outside Ebbing, Missouri" is so full of surprises that when Mildred Hayes (Frances McDormand), carries an open bottle of wine across a restaurant toward a table where her ex-husband sits with his pretty young girlfriend, there's no way to tell if she will pour them some wine or smash them in the face.
Tormented by sorrow and guilt, Mildred is in furious despair following the rape and murder of her teenaged daughter Angela. Frustrated by the lack of action by local authorities, she vents some anger and stirs more in others when she rents three billboards on the road where Angela died and covers them with provocative protests. Local reaction is mixed except among law officers who feel insulted with predictable results.
Mildred is one of several highly volatile characters in a film of startling originality written and directed by British filmmaker Martin McDonagh ("In Bruges"). The people of Ebbing are neither wholly good nor wholly bad although some are worse than others. Sheriff Bill Willoughby (Woody Harrelson, with McDormand below), the target of Mildred's vitriol, is prideful and resentful although it's not easy to tell at first what is really eating him. Officer Jason Dixon (Sam Rockwell) is a racist bully due largely to his slow wit and quick temper.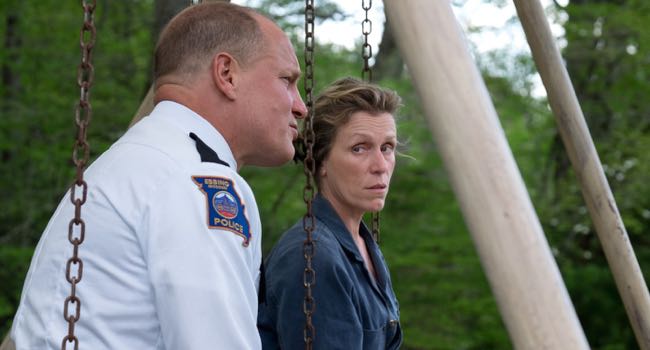 Awards nominations are guaranteed for McDormand's imposing performance as best actress and the two men will be in contention for best supporting actor honours. Constantly inventive and totally gripping, the script mixes keen character observation with abrupt bursts of violence, unexpected gestures of empathy and bright sparks of the blackest humour. The juxtaposition of brutality and laugh-out-loud comedy can make for discomfiting viewing but the acting and direction are so assured that it becomes thoroughly satisfying.
McDonaugh gives each character depth and variety with efficient brush strokes so that we learn what drives Mildred beyond her anger aided by a subtle performance by Lucas Hedges as her confused son. Harrelson's sheriff has hidden depths, too, not least in his relationship with his adored young wife (Abbie Cornish) and their daughters and Rockwell (below) takes the carelessly violent doofus police officer through unpredictable learning curves. The high level extends all through the cast with Caleb Landry Jones a plucky advertising salesman, John Hawkes as Mildred's temperamental ex, Samara Weaving as his vacuous girlfriend, Kathryn Newton as Mildred's rebellious teen, and Peter Dinklage as an unlikely suitor.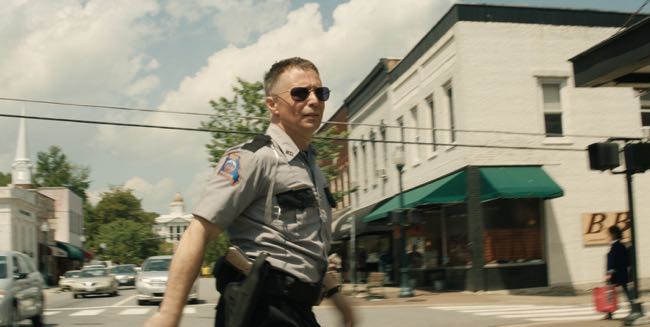 The film will be showered with awards nominations, not least for the verisimilitude of a small mid-western community established by Inbal Weinberg's production design, Jesse Rosenthal's art direction, Merissa Lombardo's set decoration and the cinematography of Ben Davis. Composer Carter Burwell adds rich shades of colour with a touch of country in his original score.
Venue: Toronto International Film Festival; Released wide in the US: Nov. 17 / UK: Jan. 12 (Fox Searchlight); Cast: Frances McDormand, Woody Harrelson, Sam Rockwell, Lucas Hedges, John Hawkes, Peter Dinklage, Caleb Landry Jones, Samara Weaving, Kathryn Newton; Writer, director: Martin McDonaugh; Director of photography: Ben Davis; Production designer: Inbal Weinberg; Music: Carter Burwell; Editor: Jon Gregory; Costumes: Melissa Toth; Producers: Graham Broadbent, Peter Czernin, Martin McDonaugh; Executive producers: Daniel Battsek, Ross Garnett, Diarmuid McKeown, Bergen Swanson; Production: Blueprint Pictures; Rating: US: R /UK: 18; running time 115 mins.