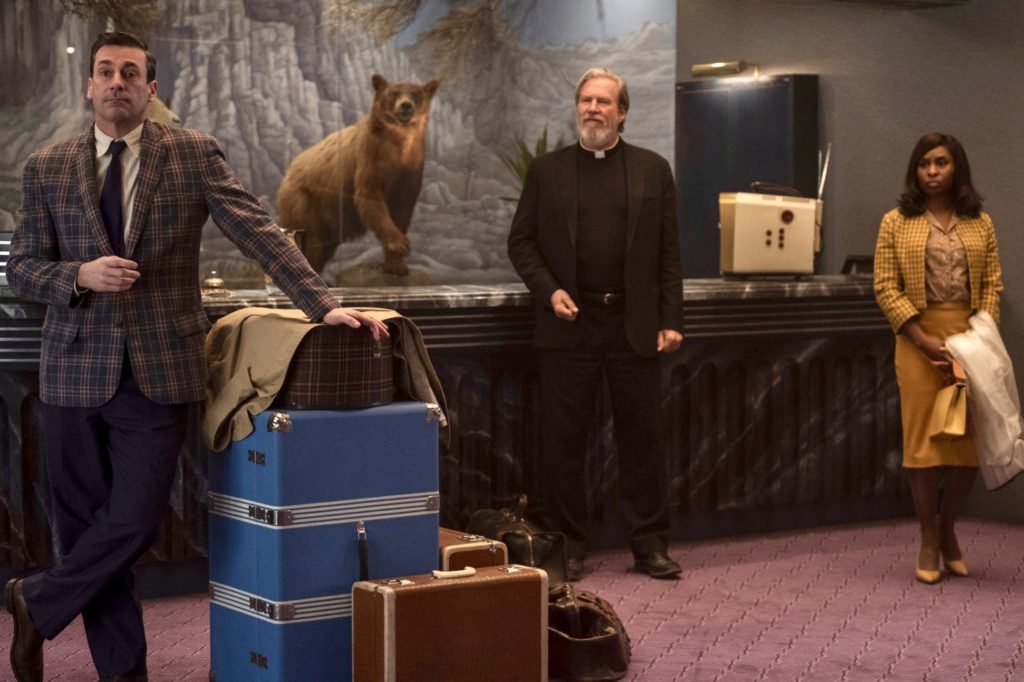 By Raymond Bennett 
LONDON – A priest, a traveling salesman, and two young women walk separately into a hotel-casino on the California/Nevada border and all hell breaks loose. They aren't who they seem to be and neither is the exotic joint where they've chosen to stay. Written and directed with assurance and tremendous style by Drew Goddard, 'Bad Times at El Royale' is a garish noir tale full of surprises, violence and no little humour. It also offers roles that a terrific cast – Jeff Bridges, Cynthia Erivo, Jon Hamm and Dakota Johnson initially and then Cailee Spaeny, Lewis Pullman and Chris Hemsworth – get their teeth into with very satisfying results.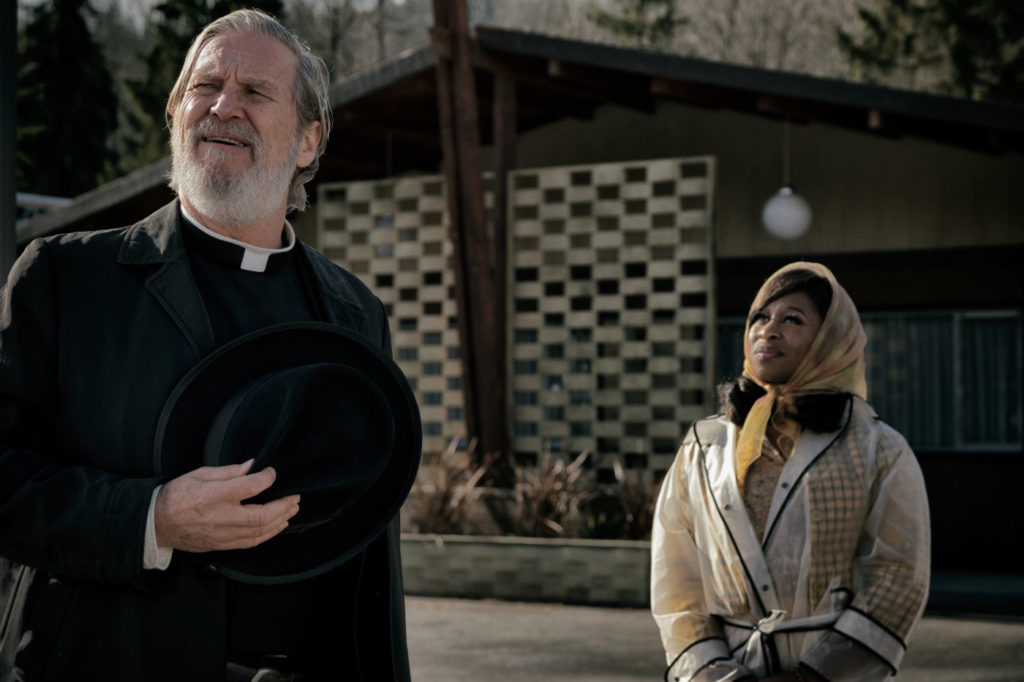 Goddard's TV writing credits include 'Buffy the Vampire Slayer', 'Angel' and 'Alias' and 'Lost' and he wrote and directed 'The Cabin in the Woods' (2012) and scripted 'World War Z' (2013) and 'The Martian' (2015), for which he earned an Oscar nomination for best adapted screenplay. His yarn is set in 1970 at a typically Sixties neon and glass venue that was once a playground for the Vegas pack but has now fallen on hard times due to losing its gambling licence. Its unique selling point is that the state border runs right through the centre of the place so guests may stay either in California or Nevada. In a brief prologue set 10 years earlier, a man checks in, buries something in one of the rooms and is promptly shot to death.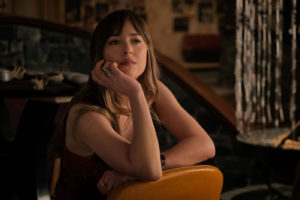 Now, there's only one person on duty, a diffident young man named Miles (Pullman) who seems reluctant to check anyone in, especially the crusty priest, Father Daniel Flynn (Jeff Bridges). Singer Darlene Sweet (Erivo) and tough cookie Emily (Johnson) are more put off by the garrulous vacuum salesman Laramie Sullivan (Hamm) but they take rooms anyway. It doesn't take long to discover some of the secrets of the motley crew, not least that the salesman is really an FBI agent and that Emily has kidnapped a younger woman, Rose (Cailee Spaeny) and snuck her into her room where she keeps her tied up. Many more mysteries will unfold and Chris Hemsworth will show up later as a charismatic but menacing cult leader. Several scenes are revisited from a different perspective as the individual motives for being there start to clash with dramatic and increasingly violent results.
Bridges, Hamm and Hemsworth bring their A-game while Erivo (who also shines in the upcoming 'Widows') is splendid as both actor and a cappella singer, Johnson impresses with tremendous flair and Pullman peels the onion of his character with great effect. Young Cailee Spaeny hovers as an apparently naive girl who bears watching.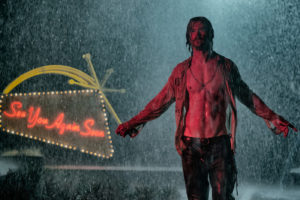 It's probably longer than it needs to be but production designer Martin Whist's vivid set is a character in itself and Northern Irish cinematographer Seamus McGarvey – Oscar- and Bafta-nominated for 'Atonement' (2007) and 'Anna Karenina' (2012) – captures it all luxuriously. There are plenty of songs from the era, both on the jukebox and sung by Erivo, and Michael Giacchino ties it all together with an energetic score that captures the period, enhances the contrivances and should be in for award nominations.
Released: UK, US: Oct. 12 2018 (Twentieth Century Fox); Cast: Jeff Bridges, Cynthia Erivo, Dakota Johnson, Jon Hamm, Chris Hemsworth, Cailee Spaeny, Lewis Pullman; Director and writer: Drew Goddard; Director of cinematography: Seamus McGarvey; Production designer: Martin Whist; Music: Michael Giacchino; Editor: Lisa Lassek; Costume designer: Danny Glicker; Producers: Drew Goddard, Jeremy Latchem; Executive producer: Mary McLaglen; Production: Twentieth Century Fox; Rating: UK: 15 / US: R; running time: 141 minutes.