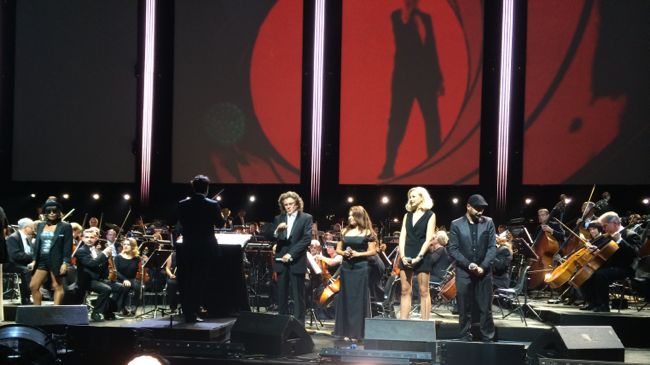 By Ray Bennett
Spanish conductor Diego Navarro brought his "The Best of James Bond" concert programme to the Krakow Film Music Festival Friday night as he led the Krakow Philharmonic Orchestra and a roster of mostly Polish singers through songs and cues from the 007 movies.
It was a big show at a big venue – the Krakow Arena, a new sports and entertainment complex that can hold up to 20,000 – and it received an enthusiastic response.
All the classic Bond songs were represented along with a selection of cues by composers such as David Arnold, John Barry, Monty Norman and Paul Epworth.
Navarro, who had staged a similar concert at Fimucité at his Tenerife home base, brought along the terrific Spanish singers Esther Ovejero and Lorena Garcia joined by several attractive performers from the Polish music scene including Justyna Steczkowska, Zbigniew Wodecki, Aga Zaryan and Monika Borzym plus three winners of Poland's version of "The Voice"– Damian Ukeje, Mateusz Ziółko and Natalia Nykiel.
The light show was daunting for those at the front of the huge crowd but with energetic performers, some big voices and a lineup of memorable songs and cues, there was much to enjoy.