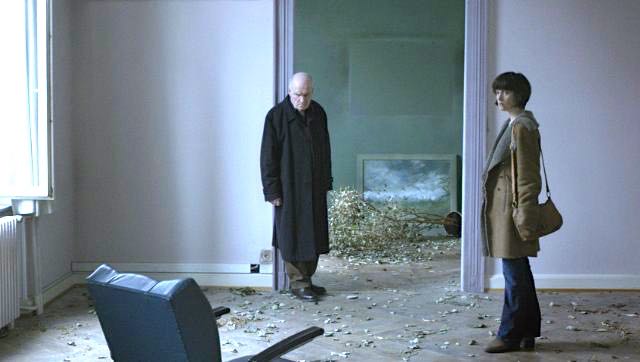 By Ray Bennett
LOCARNO, Switzerland – The circle of life is given warm and redemptive treatment in "The Little Bedroom" (La Petite Chambre) written and directed by Stephanie Chuat and Veronique Reymond. An encounter between a private nurse who recently lost a child and an old man tired of living affords each of them the chance to reassess their fate.
Set in the Swiss town of Lausanne with the nearby alps to play a key role before the story is over, it's a showcase for Florence Loiret Caille as the traumatised woman and Michel Bouquet as the grouchy and alienated old gent.
Interest should be strong in international markets and festivals although it's probably not a powerful enough work to make it an art house hit.
Caille plays Rose, who has just returned to work after delivering a son still-borne after eight months' pregnancy. Diligent and patient, she does more for her patients than she's strictly supposed to. Bouquet plays one of them, the hard-nosed Edmond, whose son is about to depart for Chicago and wants to place him in a nursing home.
Meanwhile, Rose's husband Marc (Eric Caravaca) has a lead on a major advertising campaign design contract in New York and must go there to cement the deal. He is torn by the conflict between his ambition and his concern for his wife.
Writer-directors Chuat and Reymond supply information about the characters subtly so they become gradually fully formed with Rose refusing to think of her lost child as dead and Edmond declining to show his son the slightest kindness.
As the odd couple of nurse and patient discover more about each other and Rose conspires in Edmond's absence from the nursing home, they develop an odd but pleasing kinship. Caille's supple features convey the warm personality that loss has curdled while Bouquet uses silence and stillness to register a very active mind.
Emre Sevindik's sonorous score, aided by several piano selections from Bach, Beethoven and Sibelius, enhance the impressively textured images of cinematographer Pierre Milon.
Venue: Locarno International Film Festival, In Competition; Cast: Michel Bouquet, Florence Loiret Caille, Eric Caravaca; Directors, writers: Stephanie Chuat, Veronique Reymond; Director of photography: Pierre Milon; Production designer: Daniel Raduta
Music: Emre Sevindik; Costume designer: Magdalena Labuz; Editor: Thierry Faber; Production companies: Vega Film, Iris Productions; Sales: Vega Film; Not rated; running time, 87 minutes.
This review appeared in The Hollywood Reporter.