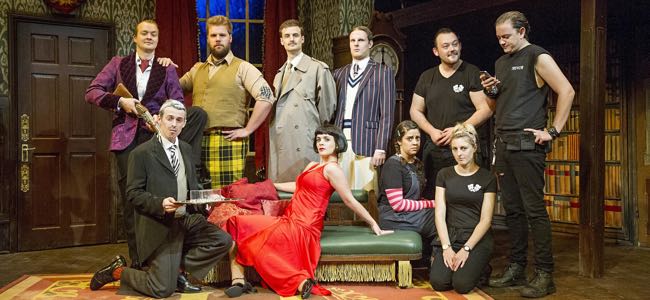 By Ray Bennett
LONDON – A fund-raiser for LAMDA, the London Academy of Music & Dramatic Art, attracted a packed house to a performance of hit West End show "The Play That Goes Wrong" on Tuesday.
Written, produced and starring alumni from the Academy, the farce about a chaotic performance of a whodunnit by an amateur dramatic society, was named best new comedy at the 2015 Olivier Awards.
Cast and crew surrounded the mostly well-heeled invited audience at the Duchess Theatre after the final curtain carrying buckets to receive donations and pledges that co-writer Jonathan Sayer, who plays the butler in the play, said were vital to sustain LAMDA's future.
The Academy next year will turn its site near Hammersmith into an integrated campus with 10 flexible rehearsal studios, adaptable teaching spaces including a screen and audio suite, and two new performance venues, the 120-seat Carne Studio Theatre and the 200-seat Simon Sainsbury Theatre.
Graduate Benedict Cumberbatch has noted, "One of the capital's leading and best-loved dramatic arts organisations will at last possess the space, facilities and physical presence it deserves."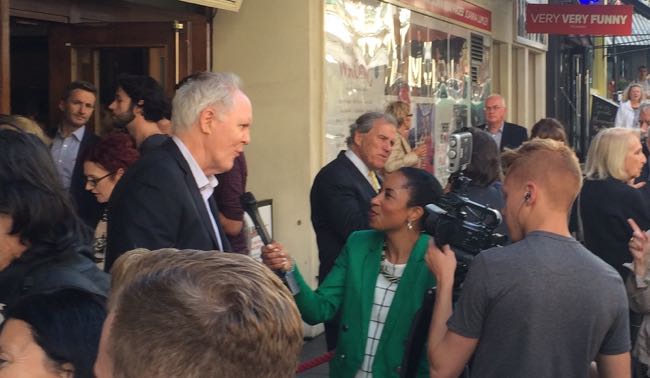 American actor John Lithgow (pictured being interviewed outside the theatre), who spent one year at LAMDA in 1967, was among alumni who attended the fund-raiser.
I reminded him that we had met in Los Angeles in 1989 when he starred in "Who's Afraid of Virginia Woolf" with Glenda Jackson. "Your beard was darker then," he observed as he scratched his head as if to say that he had more hair then.
He said at the interval that he thought the show was hilarious and he was afraid that his laughter was too loud. The knockabout farce will not suit all tastes but the players throw themselves into it with abandon and the evening was one of laughter and applause.
Lithgow is in the U.K. for seven months to play Winston Churchill in a Netflix TV series due next year titled "The Crown" in which Matt Smith will play the Duke of Edinburgh and Claire Foy will play Queen Elizabeth II.
Other alumni of LAMDA include Jim Broadbent, Nancy Carroll, Anna Chancellor, Rory Kinnear, David Oyelowo, David Suchet, Luke Treadaway, Harriet Walker and Ruth Wilson.
"The Play That Goes Wrong", produced by Mischief Theatre, is booking at the Duchess through Feb. 14 2016. More about the show here
Donations to LAMDA can be made via the Academy website here
Cast photo by Alastair Muir.