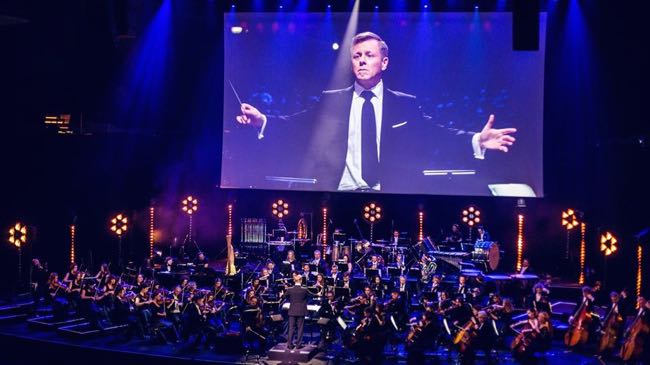 By Ray Bennett
Krakow – Composer Abel Korzeniowski, who left Poland to find success scoring films in Hollywood, was given the key to the city of his birth and standing ovations following a concert of his music at the ICE Krakow Congress Centre on Wednesday night.
One of the highlights of this week's Krakow Film Music Festival, the concert saw Korzeniowski for the first time conduct suites of his scores from the TV series "Penny Dreadful" and the films "Romeo & Juliet", "Nocturnal Animals", "A Single Man", "W.E." and "Escape From Tomorrow".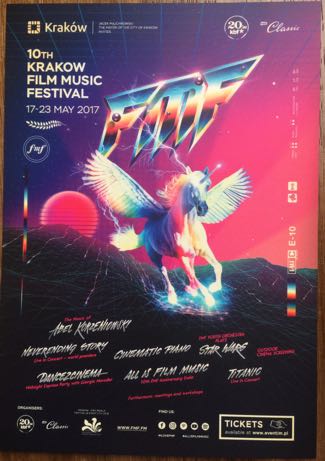 With images from the 19th-century horror tale "Penny Dreadful" onscreen, pianist Krzysztof Ksiazek's low notes led to deep brass sounds and a slow drum beat as the composer's cues for the series began. Dark and creepy scenes of running insects and a crow's head merged with human decadence and a slithering serpent as the music increased in pace.
Strings rose as a blade cut through flesh onscreen and began to shimmer intensely when a flock of birds filled the screen and the music echoed the bleak and terrible images.
There is lots of gaslight villainy in "Penny Dreadful" that the composer underscored with the portentous strings of the Beethoven Academy Orchestra with concert master Pawel Wajrak, and a solo by violinist Piotr Tarcholik added a nuance of dread.
Michal Dabek on cello and Marta Czepielowska on viola also featured as images from the TV series moved from candlelit menace to Grand Guignol to scenes of bucolic harmony.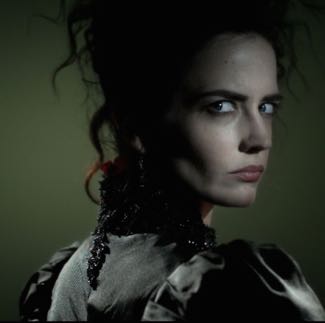 A theatrical scene filled with raw flames was met with increased excitement by the full orchestra and then, suddenly, there was a sweet waltz on the piano as the show's stars Josh Hartnett and Eva Green danced together. Step by step, Korzeniowski's agile score amplified grim violence and mirrored torn anguish and longing. Eva Green (pictured left) does a lot of staring and glowering in "Penny Dreadful" and she does it well. The composer demonstrated, though, how a subtle cue can help inform the storm of emotions hidden by a beautiful face in repose.
With her intense eyes, Amy Adams (below) is even better at saying a great deal when not speaking. The cues from "Nocturnal Animals" in the second half of the concert, many of them featuring strings reminiscent of those heard in the noir Hollywood films of the Forties, showed again how great acting is aided by a fine piece of music.

The Tom Ford film has Adams as a sophisticated but lonely woman trying to come to grips with her past and Jake Gyllenhaal as the husband she spurned. She reads a bitter novel that he has written, a piece of lurid pulp fiction, that she sees as a film within the film. Korzeniowski's strings were filled with foreboding in the scenes of rape and murder and then piano and harp underscored the woman's silent anguish and helped to fill Adams's expressive eyes with immense sadness and regret.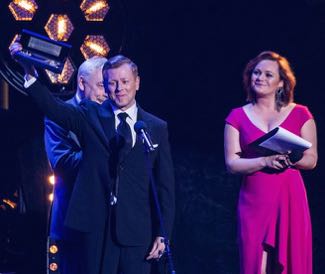 Colin Firth, in "A Single Man", embodied director Ford's taste for silent meditation supported by strings, which contrasted with the romantic piano that accompanied the first flush of love in Carlo Carlei's "Romeo & Juliet" (2013). Cues followed from Madonna's "W.E." with a rousing finale from "Escape From Tomorrow".
Obviously touched by the resounding ovations in his home town, Korzeniowski accepted the key to the city from Mayor Jacek Majchrowski (pictured left with concert host Magda Miska-Jackowska) and gave emotional thanks to Hollywood agent Christine Russell, who was in the audience: "She was the one who made this possible," he said. "Without her, I wouldn't have written the music for these films."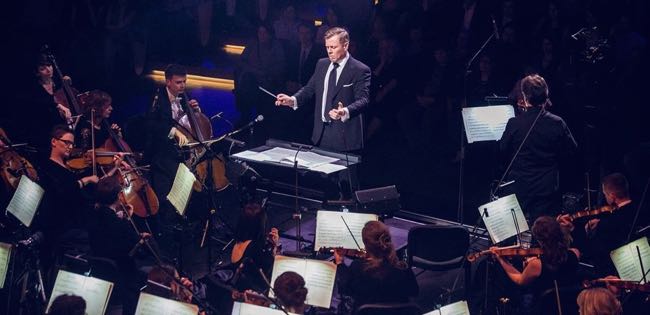 KFMF photos by Robert Slusniak