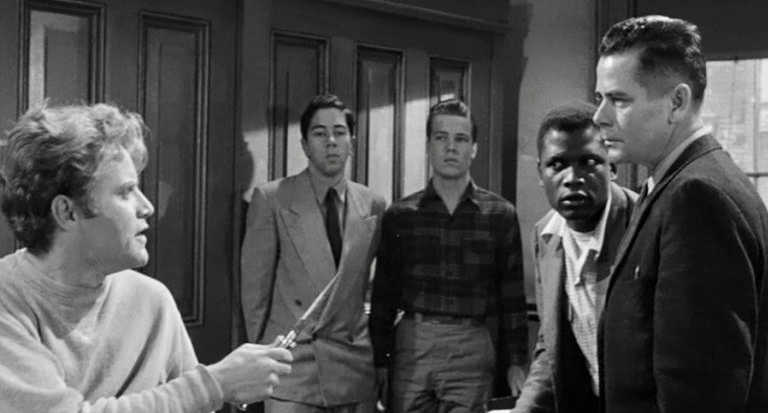 By Ray Bennett
LONDON – Evan Hunter was an American writer who wrote several novels that were made into movies including Richard Brooks's 'Blackboard Jungle' (above) starring Glenn Ford and featuring Sidney Poitier and Vic Morrow but known best for its opening credits song, 'Rock Around the Clock' by Bill Haley and the Comets.
Richard Quine's 'Strangers When We Meet' (1960) stars Kirk Douglas and Kim Novak, John Frankenheimer's 'The Young Savages' (1961) stars Burt Lancaster and Delbert Mann's 'Mister Buddwing' (based on his novel 'Buddwing') stars James Garner, Jean Simmons and Suzanne Pleshette. He also wrote the screenplay for Alfred Hitchcock's 'The Birds' (1963).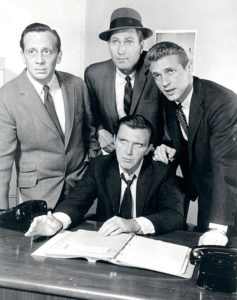 He was known best, however, as Ed McBain, the name he used for some 55 novels set in the 87th Precinct of a version of New York City that he called Isola. Although his central character was Det. Lt. Steve Carella, Hunter's intent was to make the precinct itself the hero of each story. A few McBain yarns were adapted for the screen, most notably 'King's Ransom', which Akira Kurosawa re-titled 'High and Low' for his 1963 film, and a 1972 Burt Reynolds vehicle, 'Fuzz'.
There also was a television series, '87th Precinct' starring Robert Lansing as Carella (sitting, left) with Norman Fell, Gregory Walcott and Ron Harper (and Gena Rowlands as Carella's blind wife Teddy in a few episodes). It was good but not a success and ran for just 30 episodes on NBC from 1961 to 1962. Hunter was very annoyed later when writer/producer Steven Bochco took credit for inventing the squad format for his 1980s hit series 'Hill Street Blues'.
The early novels are eminently readable today not only for their portrayal of life in 1950s New York but for Hunter's economical prose, insightful observations, well-drawn characters and his descriptive power. In 2018, I revisited 10 of them and enjoyed them all: 'The Mugger', 'Cop Hater', 'King's Ransom', 'Killer's Choice', 'The Pusher', 'The Con Man', 'Killer's Payoff', 'Lady Killer', 'Til Death' and 'Killer's Wedge'.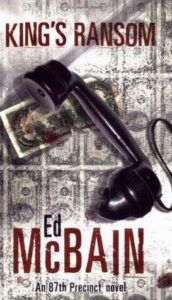 McBain was not the only author I revisited in 2018 as I went back to six by John Le Carré: 'Call For the Dead', 'A Murder of Quality', 'The Looking Glass War', 'The Spy Who Came In From the Cold', 'Tinker, Tailor, Soldier, Spy' and 'The Honourable Schoolboy' plus his latest, 'A Legacy of Spies', which was the weakest of the lot. Having re-read Len Deighton's trilogies in 2017, this year I rediscovered the great pleasures of British writer Anthony Price's espionage novels: 'Gunner Kelly', 'The Old Vengeful', 'Sion Crossing', 'Here Be Monsters', 'For the Good of the State'. Recommended highly. As, of course, are Graham Greene's 'The Ministry of Fear', 'The Honorary Consul' and 'Stamboul Train', which I read for the fourth or fifth time.
Three Frederick Forsyth thrillers were hit and miss: 'The Negotiator', 'The Fourth Protocol' and 'The Kill List'. Much better were Mick Herron's witty espionage tales, 'The List', 'Why We Die' and 'Smoke and Mirrors'; Adam Brookes's 'Night Heron', 'The Spy's Daughter' and 'Spy Games'; and John Lawton's 'East of Suez, West of Charing Cross Road' and 'Friends and Traitors'. Jason Matthews's 'Red Sparrow' and sequels 'Palace of Treason' and 'The Kremlin's Candidate' are good fun. I also enjoyed David Downing's 'Dark Clouds Shining', Charles Cumming's 'The Man Between', Robert Harris's 'Munich', Ken Follett's 'Night Over Water', David Baldacci's 'The Fallen' and 'The Last Mile', Jeffrey Deaver's 'The Coffin Danger' and David Ignatius's 'The Director'.
I discovered Wilkie Collins's excellent 'The Moonstone', re-read for the umpteenth time John Steinbeck's much-loved 'East of Eden' and 'Cannery Row' and caught up with one of my all-time favourites, Larry McMurtry, with his latest, 'The Last Kind Words Saloon'. Other reading in 2018 included, 'The Last Gunfight: The Real Story of the Shootout at the O.K. Corral' by Jeff Guinn, '1759: The Year Britain Became Master of the World' by Frank McLynn, 'Broadsword Calling Danny Boy' by Geoff Dyer (for fans of 'Where Eagles Dare') and, of course, a couple by Ron Base: 'I, The Sanibel Sunset Detective' and 'The Mill Pond'.
And having discovered Robert Olen Butler and enjoyed his 'The Hot Country', I am closing out the year with another enjoyable espionage romp, 'The Star of Istanbul'.